Continuing on my Blog Tour de Force adventures, I received a review copy from Amber Scott, writer of steamy romance, stay home mom, avid reader, writing coach, not to mention fellow chocolate enthusiast. Below lies my review — and as usual, be warned there may be some spoilers.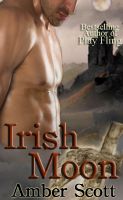 Irish Moon by Amber Scott
Irish Moon is a historical paranormal romance set in the wild countryside of Ireland in the 1300s. Under the magical Irish moon, anything can happen — and beware, because not all spirits are friendly.
The story follows headstrong village princess Breanne, who is desperate to learn more about her Druid powers even if it means sneaking off in the middle of the night to meet her eccentric mentor. But when a stranger washes ashore the same night her mentor is killed, Breanne must make a decision that will change her life forever: should she protect this mysterious English knight or turn him in for murder? Mystery, magic, forbidden love and cursed cats — this story delves deep into Irish mythology and shows us why the Irish really do it best.
Irish Moon is an effortless read, the kind of story you can rip through in one day. As someone half-Irish perhaps I'm a little biased, but I really enjoyed the history and mythology in this novel — Irish folklore is dark and twisted, and makes a great backdrop for a murder mystery. I particularly enjoyed Scott's descriptions of the countryside and the magical groves, but even the main keep is described vividly (and there's a great scene on a staircase!).
The characters are varied and believable. Breanne is a likeable, entertaining heroine with a mind of her own, and Ashlon (the knight and love interest) has a certain honourable charm. While I didn't like all of the characters – I mostly wanted to smack some sense into Breanne's other love interest — I connected with them emotionally, which doesn't always happen in romance novels as many lack character depth. Overall, though, my favourite character was the cursed cat, whose temperamental nature and sarcastic comments never failed to amuse… not to mention what he gets up to later on in the novel!
The novel does get pretty steamy, but never overly explicit; Scott strikes a great balance between too much and not enough. Perhaps my only nitpick is that the romance sometimes overtook the murder mystery plot, and that Ashlon's storyline (and his secret mission) did not get as much attention as it deserved. The story really focuses on Breanne's struggles, and ends soon after her problems are resolved. But then again, we can't have it all, and I must admit that out of the many indie romances I've read, Irish Moon ranks highly.
In sum, I'd recommend this book to fans of historical paranormal romance — you can grab a copy online from Smashwords or head to Amber's blog to learn more.