What a rarity: this review is not based on a review copy. That's right, I splashed out a grand $0.99 for this collection and would gladly have spent more. But less reverence, and more review. Here's why YOU should be getting a copy, too.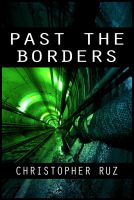 Past the Borders by Christopher Ruz
A magician leads one hundred soldiers into the desert on a doomed mission. A young couple watch the rain sweep in and swallow the outside world. First contact at Uluru. Electronic eyes packed with stolen memories. In Past the Borders, the first short story collection by Christopher Ruz, seven pieces of speculative fiction explore the boundaries of fantasy, cyberpunk and literary horror.
I have known Christopher Ruz a while through mutual writer friends, but this is the first time I have properly sat down and read his work. And let me tell you, I cannot recommend this collection highly enough. In fact, when I put Past the Borders side-by-side with my own anthology, Hungry For You, I confess to a tingle of envy.
Past the Borders is an unsettling speculative fiction collection of six short stories plus a novella. While the length varies widely from story to story, the crisp, sharp writing and almost naked honesty of emotion remain consistent throughout, creating a truly escapist anthology.
The collection starts off with a bang—the first story, Black Rain, is an anxiety-inducing piece with subtle imagery and a quiet horror. A couple is trapped in a house by ceaseless black rain that plunges them into despair. How much of the darkness is real? How much of it is paranoia? Black Rain is a stunning, nail-biting piece.
Then there's Unknown Hunger. What begins as a straight up detective story strays off the beaten path and into the paranormal. An alcoholic man witnesses a mysterious death and is suspected of murder. The cops are sure of his guilt, but he can barely remember his own past… and at the heart of his memory loss lies a dangerous secret.
The collection continues from strength to strength with the cyberpunk They Trade In Eyes, my favourite piece tied in first pace with Black Rain. Here, Ruz explores a world where people upgrade their eyes to mechanical alternatives, depicting a bleak vision of the future (pun intended!). "People aren't buying eyes to see. They're buying eyes to know" (pg 50).
Occupied is a strange, quietly sad story with excellent characters. A boy finds a note in a bathroom and decides to reply, striking up a lifelong correspondence with a very unusual man. While I enjoyed this piece, I found the slightly meandering plot less gripping than the previous three stories.
No Exit is written as a newspaper article, and set in the year 2094 in a post-apocalyptic Australia. The Aliens Came Alphabetically is a cleverly written ABC story about first contact. No Exit and The Aliens Came Alphabetically were the shortest stories in the collection, and perhaps the weakest of the lot, although in such great company that isn't saying much!
The collection closes nicely with the longest piece, The Ant Tower, in which a magician leads a group of mercenary soldiers through the desert to recover a forgotten relic. I loved the world-building of this story, and the ending left me hungry for more; in fact, this piece is more of a frustrating teaser of a future novel to come!
What I most enjoyed about this admittedly dark collection was that each story offers a fresh take on the speculative. Christopher Ruz explores some highly original ideas whilst creating evocative settings and very believable characters.
If I had to nitpick at all, I would say this collection is lacking in female perspectives, as the majority of narration is from a male character's point of view. But why complain when what is on offer is so good? These seven stories are great quasi-slice-of-life fiction unlike anything I've read in a good while.
All this is available for a mere $0.99. What are you waiting for? Grab Past the Borders from Amazon or Smashwords. You won't regret it.