I've mentioned Zoe E Whitten a number of times on this blog already, as she is a good friend and a prolific indie author. But this was my first taste of her Zombie Era series… and here is what I thought about it.
p.s. This review is long, long, long overdue. My apologies, Ms Whitten, and thanks again for the review copy.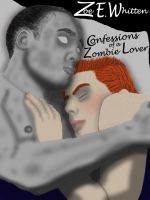 Confessions of a Zombie Lover by Zoe E Whitten
(Zombie Era, Book 2)
Two years after the murder trial of Blaine Kerne, released microbiologist Eugene "G" O'Donnell is still no closer to finding Kate Brennan or his healed zombie "daughter" Susan. Forced to return to the Army for help, G begins new research with Reggie, a fresh zombie who resembles G's dead lover. While the soldiers search for Susan and Kate, G's experiments with Reggie yield a smarter zombie, but one more emotionally distant than G had observed with Susan. In spite of Reggie's stunted emotions, he becomes attracted to his savior, and G wrestles with feelings of attraction and guilt for "playing with his kid". But flirting with his patient may mean doom for the experiment.
First things first: while this is the second book in the Zombie Era series, G is the only returning character, and thus this book can be read as a stand-alone. (I have not read the first book and had no problem following the story.)
Now on to the meat of the review!
The story takes places in a classic post-apocalyptic world overrun by zombies, where human settlements battle off the undead and struggle to survive. Yet Whitten's zombies are anything but classic, and it is this difference which makes the Zombie Era series stand out from the crowd. For Whitten's zombies can learn, and — with training — regain human levels of intelligence.
Main character Eugene 'G' O'Donnell is to thank for the discovery of a zombie's latent cognitive potential. Through the use of electricity, blood transfusions, and controlled diets, he discovered (in Book 1) that he can rehabilitate zombies. In Confessions of a Zombie Lover, he puts this knowledge to use and begins to replicate the experiment… only to realise that even the best of intentions can be led astray.
G is a sympathetic protagonist. A self-taught microbiologist, he falls into the 'cute nerd' category and thinks he can use science to improve the world. So when the military deem him a VIP and give him everything he needs for his experiments, it seems like a dream come true. All he wants is for humans and zombies to co-exist peacefully, but unfortunately for him, the military have other plans.
G's zombie patient, Reggie, is equally likeable, and it is fascinating to watch him develop from mindless zombie, to developing child, to an adult. As an intelligent zombie, Reggie is not only faster and smarter, but also capable of emotion, and he develops more than platonic feelings for G. With the way human/zombie relationships are viewed, this attraction is a thorny issue in itself, and it certainly doesn't help that Reggie has few prospects in his future.
But Confessions of a Zombie Lover digs deeper into the implications of intelligent zombies and brings some very human questions into play. Is it fair to kill zombies, if they can regain consciousness with rehabilitation? Can zombies and humans co-exist? And is there any point in rehabilitating zombies, when it will only make them aware of their status as second class citizens?
In sum, is ignorance and bliss better than remaining an outcast forever? Confessions of a Zombie Lover certainly gives food for thought.
My only complaints? Firstly, I am not a massive fan of first-person narratives, as there tends to be a greater amount of exposition. While Whitten's writing style makes the novella easy and quick to read, there were a few moments where I found myself skimming — but perhaps these passages are necessary to ensure the book can be read as a stand-alone.
Secondly, I was a little disappointed by the resolution of the plot — after the initial excitement and interesting set-up, the plot does not deliver the expected climax. As far as I'm aware, there will be a third book in the series, which could explain my dissatisfaction.
Overall, however, Whitten's fearlessness in the face of difficult subjects does her credit in the Zombie Era series. Recommended for those looking for an alternative zombie.
If you enjoy alternative takes on the zombie mythos, you can snatch up Confessions of a Zombie Lover for a mere $1.99 from Smashwords. And if you don't like reading series out of order, why not start with the first book in the series, Zombie Punter?