Lyn Thorne-Alder is a good friend and also the author of the highly addictive dark fantasy online serial Addergoole, which I've mentioned before. I've just bought my copy of Sugar Cat and recommend you do the same!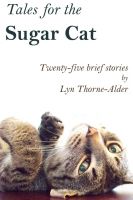 Tales for the Sugar Cat — Anthology
This collection of short, flash, and micro stories span genres and universes, from scifi to fantasy to romance. Most of the stories here were written in response to prompts from an online audience during an eight-hour writing marathon.
The author, Lyn, entered into this live-writing marathon to raise funds to help defray the costs of her cat Drake's recent diabetes diagnosis, hence the title Tales for the Sugar Cat.
In this book, you can explore new planets and find hidden corners of earth, meet strange creatures and stranger humans; the twenty-five stories here consist of a sampler pack of Lyn's fiction
About the author:
Lyn Thorne-Alder started her serial-writing career in high school, passing around handwritten stories on notebook paper to her friends. This (among other things) got her a reputation as being a little bit strange, a reputation which haunts her to this day.
She lives in the Finger Lakes region of New York State with her husband and their two flesh-eating cats. When she's not writing, or working her day job, she enjoys hiking gorges and old cemeteries, knitting, sewing, drinking wine, and watching the geekiest television she can find.
Intrigued?
Published in April 2011, this anthology is available for $1.99 from Smashwords.