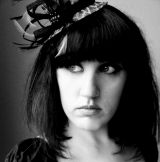 Icy Sedgwick is part office manager, part writer and part trainee supervillain. Icy dreams of Dickensian London and the Old West. She writes all kinds of nonsense about telepathic parrots, Cavalier ghosts and steampunk automatons. Find her ebooks, free weekly fiction and other shenanigans at Icy's Blunt Pencil.
What are your favourite genres to read, and do these coincide with the genres you write?
IS: I'll pretty much read whatever sounds interesting or has been highly recommended irrespective of genre, but I tend to favour the likes of horror, fantasy, or speculative fiction. I do read a lot of non-fiction as well, particularly history books, and I think that has more of an effect on what I write than the fiction I read.
What would you say is your greatest weakness in writing?
IS: Probably character arc. I get so wrapped up in the location of where I've set my story, and how it relates to the narrative, that I don't spend as much time as I should on making sure the character 'grows' during the story. So people might like my characters because I make sure they're fairly strong to start with, but they're not necessarily 'changed' by what happens to them. I need to work on that.
You've two books up for sale: steampunk adventure thriller The First Tale, and speculative fiction short story collection Checkmate. What do the two have in common?
IS: Neither of them focus on realism! I've always been fascinated by the "weird" things that happen in every day life and a lot of the stories in Checkmate are inspired by the "what if" method of story telling, while The First Tale features all sorts from a giant beast made of meat to automatons to the living dead. The First Tale is steampunk and therefore not 'realistic' in itself, but the fabric of the world of Vertigo City still gets punctured by these weird things.
Which of your characters do you relate to the least?
IS: My vampire highwayman. So far he's only made an appearance once, in Your Money or Your Life, but he's already told me his backstory and he'd like me to do more with him. He seemed to get a good reception but with a few exceptions, I'm not overly keen on vampire fiction, and to be honest, he's a bit of a scallywag, and not in a good way!
Final question: if you could choose a symbol to represent you, which would it be and why?
IS: This is the question I really struggled with, but I think I'd probably choose a quill made of a magpie feather – the quill itself symbolises writing but the fact it's a quill implies a historical reference, and the magpie is the "national" bird of Newcastle upon Tyne, the town where I was born.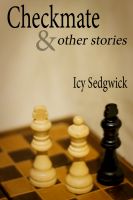 For more information, see Icy Sedgwick's website or click on the book covers for direct links to Smashwords. She can also be found on twitter as @icypop.