Many thanks to the author for the review copy.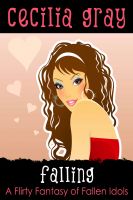 Falling by Cecilia Gray
(Fallen Idols #1)
Alexis isn't afraid of much. She's never met a cliff she didn't want to climb or a waterfall she wouldn't plunge over. Yet when her fiancé leaves and takes her daring edge with him, she swears off love… until a night out San Francisco's latest hard-to-find, impossible-to-get-into new club introduces her to Jason, the sexiest man she's ever met. But Jason is haunted by a very vengeful goddess, and Alexis is the only one who can save him from hell. If, that is, she's brave enough to try….
Falling is a fun and light first-person paranormal romance novella which takes elements of Greek mythology and combines them with present-day San Francisco.
The story follows the tall, athletic and insecure Alexis, who is dragged to an exclusive nightclub by twin sister Laurie in an attempt to recover from heartbreak. So far, so typical, but when they finally get INTO the club things become interesting. This isn't just any exclusive hangout, it's a haven for the paranormal.
Over the course of one very busy evening in the club – interspersed with a brief stint on an island – Alexis and Laurie discover the existence of witches, goddesses, immortals, and dangerous curses. If that won't distract Alexis from her broken heart, nothing will.
Alexis is a likeable protagonist. She is fairly sensible and level-headed (particularly so for a romance heroine) which comes as a breath of fresh air – rather than be intrigued and instantly enamoured by love interest Jason, she is far more realistic in her expectations. Her insecurities about her looks and sexual appeal are ones that many women can relate to, and it is interesting to see the juxtaposition between her lack of self confidence and her reckless bravery in physical feats.
Male lead Jason is an Ancient Greek warrior who led his soldiers to victory with the help of a Greek goddess. But in exchange for immortality and success in battle, Jason's had to give up any hope of falling in love. Otherwise he – and his loved one – will both die.
Both Jason and Alexis are strong, sensible, physical people with underlying emotional insecurities, and as a result the initial romantic tension between them is captivating. There's a great initial scene on a fire escape ladder which marks the beginning of their relationship and foreshadows the push-pull that is to come.
After that scene, I was settling down for a truly great escapist read, when I hit the meat of the plot (Alexis and her sister finally getting into the club). That's when the story began to falter. I was overwhelmed: far too much happens in one evening, squeezed into the small word count of a novella. Alexis and Laurie barely have the time to freak out about the existence of the paranormal before they move on to dealing with it. It felt rushed, and the initial strong characterisation was overshadowed by the implications of Jason's curse.
As a result, rather than have time to develop the promising relationship between Jason and Alexis, Falling resorts to magical influence to push the two together, which stinks a little of deus ex machina.
Another niggle – although this may just be me getting confused – was with the paranormal elements. Particularly, Jason (who I assume is based off of the Argonauts) was cursed "a few hundred years ago" according to the blurb, gaining immortality but losing the chance for love. But the Argonauts lived thousands of years ago. It doesn't seem to add up.
Don't get me wrong. Despite the niggles mentioned above, I think Falling has a lot of potential. Compared to other paranormal romances I've read, it's well-written, original, and has an interesting cast. The dialogue is realistic and witty, and the initial set up worked well as a hook. All it needs is a little more room to breathe so that the characters and plot can be fleshed out in full.
Cecilia Gray, take inspiration from your brave heroine Alexis. Tackle the next big cliff: make the sequel a full-length novel. You've certainly got the talent, and your readers will love you for it.
For a full list of sales links and more info on Falling, see Cecilia Gray's website.