I've previously reviewed another of Shaun Jeffrey's novels, Dead Man's Eye.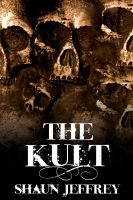 The Kult – Mystery/Horror
Available from Smashwords & Amazon (Kindle)
People are predictable. That's what makes them easy to kill.
Detective Chief Inspector Prosper Snow is in charge of an investigation into a serial killer called The Oracle who turns his victims into macabre works of art. But Prosper harbours a dark secret of his own. He and his old school friends were members of a group called The Kult who made a pact to dish out their own form of vengeance on bullies. Now a member of the group puts their friendship to the test when he makes a far darker request: that they murder someone that raped his wife.
To get away with murder, the friends decide to blame it on The Oracle, but events take a chilling turn when the instigator turns up dead, his body fashioned into a disturbing work of art. Now, one by one, the members of The Kult are being hunted down.
Just when Prosper thinks things can't get any worse, his wife is kidnapped and he knows that if he goes to his colleagues for help, he risks his dark deeds being unearthed. If he doesn't, he risks losing all that he holds dear.
Review:
"The Kult is impossible to put down. It has a great, almost impossible to solve mystery. The action starts off right away (and the violence is graphic enough to satisfy even the most jaded slasher fan). The climax was action packed, and one of the most obnoxious characters in the book got what was coming to them, which is always satisfying. All in all, a really great read." – Amazon Reviewer
About the author:
Shaun Jeffrey lives in Cheshire, England with his partner, Debra and his fantastic son, Callum. Growing up in a house in a cemetery, his playground was the graveyard – perfect grounding for writing horror – and his early reading experience came from headstones! He has had over 40 short stories published, one collection and three novels. The Kult has been optioned for film and shooting began in September 2010.