Many thanks to the author for the review copy.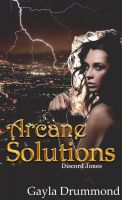 Arcane Solutions by Gayla Drummond
(Discord Jones #1)
Arcane Solutions is a quick and fun paranormal detective story recommended for fans of HP Mallory, Kait Nolan, and Charlaine Harris.
The story follows Discordia Angel Jones, a psychic private investigator with a penchant for life threatening situations. Her boss, determined to protect his best PI, hires handsome wolf shifter Nick Maxwell to be her bodyguard. It's lust at first sight between the two… but first they've got to find a missing girl, fend off vampire attacks, and stop a demonic cult from ending the world. Just another day on the job for Discord Jones….
This is a quick, escapist read which I raced through in a few hours. As befitting of the genre, the prose is stripped back and casual, and the plot fairly easy to follow. It has the requisite hunks, a kickass heroine, and offers a fresh take on the paranormal world – if this sounds like your cup of tea, don't hesitate to read it.
Discordia falls into the tough, independent and headstrong heroine category — although thankfully intelligent enough not to make stupid, obvious mistakes. Born a human, she gained psychic abilities when the paranormal and human worlds melded, but unlike any other psychic, she has multiple powers as opposed to the standard one or two.
Love interest Nick is the strong, jealous type. His jealousy doesn't win points with me, although kudos to Discordia for challenging his attitude rather than putting up with it.
Points to Drummond as well for the captivating world building. The melding of the paranormal and human worlds is still fresh in everyone's minds, leading to prejudice and fear between some of the characters. It's refreshing to read a story where everyone doesn't just calmly accept the paranormal, and the tense relationship Discord has with her step-mother adds some depth to the story.
Overall, however, Arcane Solutions is at most a guilty pleasure. I didn't find the resolution satisfying (the explanation of the vampire attacks was an anti climax) and the ending felt rushed after the pages and pages of conspiracies and whodunnits.
That said, I am intrigued to read more. Drummond has left much unexplained: how the melding of the paranormal and human worlds happened, why Discordia has more power than any other psychic, and what secrets the shifters are hiding. Plus I'd love to know more about Leglin — you'll have to give it a read to find out why!
In sum, if you like urban fantasy settings with a dollop of romance, then this might be one for you.
Grab it today from Smashwords!
You may also like:
To Kill A Warlock by HP Mallory || Devil's Eye by Kait Nolan
No Rest for the Wicca by Toni LoTempio || Other GL Drummond reviews