Andrew Bardin Williams is a freelance author and copywriter living in San Francisco. Andrew was featured by Kerouac.com and has appeared on Dante's Hot Tub on Radio Valenencia.
A little about you, first. Do you have any hidden talents?
ABW: I am an author and copywriter living in San Francisco. I love to tell stories (embellished of course) and take inspiration from the fantastic people around me.
Tell us about your book, Learning to Haight — what themes does it tackle?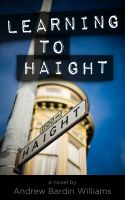 ABW: On the 40th anniversary of the Summer of Love, new reporter Jack McClure is assigned to write an article about an influential figure from San Francisco's past. A beatnik, a hippie and a one-time movie star, Dean Simmons is anything but an easy interview, but Jack knows that getting to know the "real" Dean is his ticket off the news desk. Along the way, Jack learns what it means be an activist and to make a name for himself. But Learning to Haight is really about the story of San Francisco and its affect on the young men and women who are drawn there to find themselves. The city does something to people–what will it do to Jack?
Is there anything you want readers to take away from your writing?
ABW: I want readers to understand that it's ok to take chances, to stick their necks out. If it gets chopped off… well, it'll grow back. I promise. Be active. Be engaged. Be open. That's what my book is all about. I also want readers to get to know the real San Francisco. The media likes to portray the city as a haven for hippies, liberals and drug-addled free-loaders. Yes, we have that. But much, much more. This city is extremely inspirational as a writer.
Which other indie authors do you recommend or admire?
ABW: I read all sorts of indie fiction, but instead of mentioning them, I want to make the point that many of my favorite Beat writers would be classified as indie today. There's no doubt that Kerouac, Ginsberg and Burroughs would not have had to self publish if they were just getting started today. They were too out there, and traditional New York based publishing houses do not take risks today. If the current publishing climate existed back then, we would have missed out on some of the most influential writers in the 20th century. That's why independent and self publishing is so important today.
Lastly, what question should I have asked you, and why?
ABW: As an independent author, how do you promote your book?
I'm not the first person to say this, but social media is the great equalizer. My reader community is online and there are a ton of tools I can use to let readers discover my work. This includes using Spotify to create and post a soundtrack to the novel, Google Maps to pinpoint quotes from the book to their physical location in San Francisco and YouTube to highlight the pop-culture references in Learning to Haight. Check out http://www.facebook.com/learningtohaight and http://www.learningtohaight.com to check out some of exciting ways I'm using social media.
Check out www.LearningtoHaight.com for bonus content, including links to a video of Andrew reading at the Beat Museum in SF, a Google Maps with quotes from the book and a radio interview he did on Dante's Hot Tub on Radio Valencia, an internet radio station in SF.